We Build
Momentum
We are an education and training agency for the pharmaceutical industry. Using sound instructional design principles and a unique approach to growing client partnerships, we're at our best when we are helping you build your brand's momentum.
We Align.
Enable.
Inspire.
We can help your organization meet your educational or training goals. Whether digital or print, interactive or visual, our expert content is supported by an experienced creative and multimedia team that makes your materials stand out.
Align
We identify needs across your organization, get everyone on the same page, and design training plans to meet current and future objectives.
Enable
We develop learning designed to make impact with a focus not just on the what but on the how and the why.
Inspire
We motivate your audience to grow their skills and inspire better outcomes.
Pharmaceutical Sales
Medical Affairs
Market Access
Patient Support
Company Onboarding
Compliance
Healthcare Professionals
Clinical Research
Clinical Educators
We Are An
Extension
of You.
We are organized in teams, each led by one of our partners and tailored to their clients. Guided by our company values, we learn from every engagement to become more efficient and effective so we can become a seamless extension of your organization.
Entrepreneurial
We are accountable.
We make decisions and get things done.
Curious
There's always something to learn.
We're never complacent.
Humble
We constantly seek improvement and
share in both failures and successes.
Low-maintenance
We are self-reliant and easy to work with.
We are part of the solution, not part of the problem.
We Are
Problem Solvers.
We're not focused on a single format, deliverable, or platform, but on your organization's training needs and how to best meet them.
Every Flywheeler is a full-time problem solver and our leadership has expertise in strategy, instructional design, content development, project management, and more.
Jung has more than 25 years of experience in pharmaceutical, biotech and medical device training and communications. He has worked extensively with some of the largest pharmaceutical companies in the world, as well as the smallest biotech startups bringing their first compound to market, and many others in between – bringing the same commitment to client service regardless of their size or profile. Jung's focus today is to ensure that Flywheel teams continue to exceed client needs and expectations by delivering world-class work along with a world-class experience.
Jung Lee
Founding Partner
Brendon joined Flywheel in 2009, after earning his PhD in genetics from North Carolina State University. Initially brought on as a Medical Writer – a role that allowed him to apply his considerable life science knowledge and sharp critical thinking skills – Brendon is now a Partner and currently leads a multi-disciplinary team of over 30 full-time Flywheel employees. By combining a pragmatic approach to project development, clear communication, a focus on client needs, and uncompromising quality standards, Brendon has consistently distinguished himself as an expert problem-solver and an outstanding team leader. 
Brendon Fussnecker
Partner
Colleen is a strategic leader in life sciences training and communications. With 20 years of experience, Colleen has worn all the hats needed to deliver exceptional training to her clients. Her experience spans from leading projects on a global scale for larger pharmaceutical companies, to spearheading projects for small biotech companies, all performed with the same high-quality standards. Her versatility, professionalism, and superb leadership and communication are what drive projects that meet and surpass client expectations to successful completion.
Colleen McMahon
Partner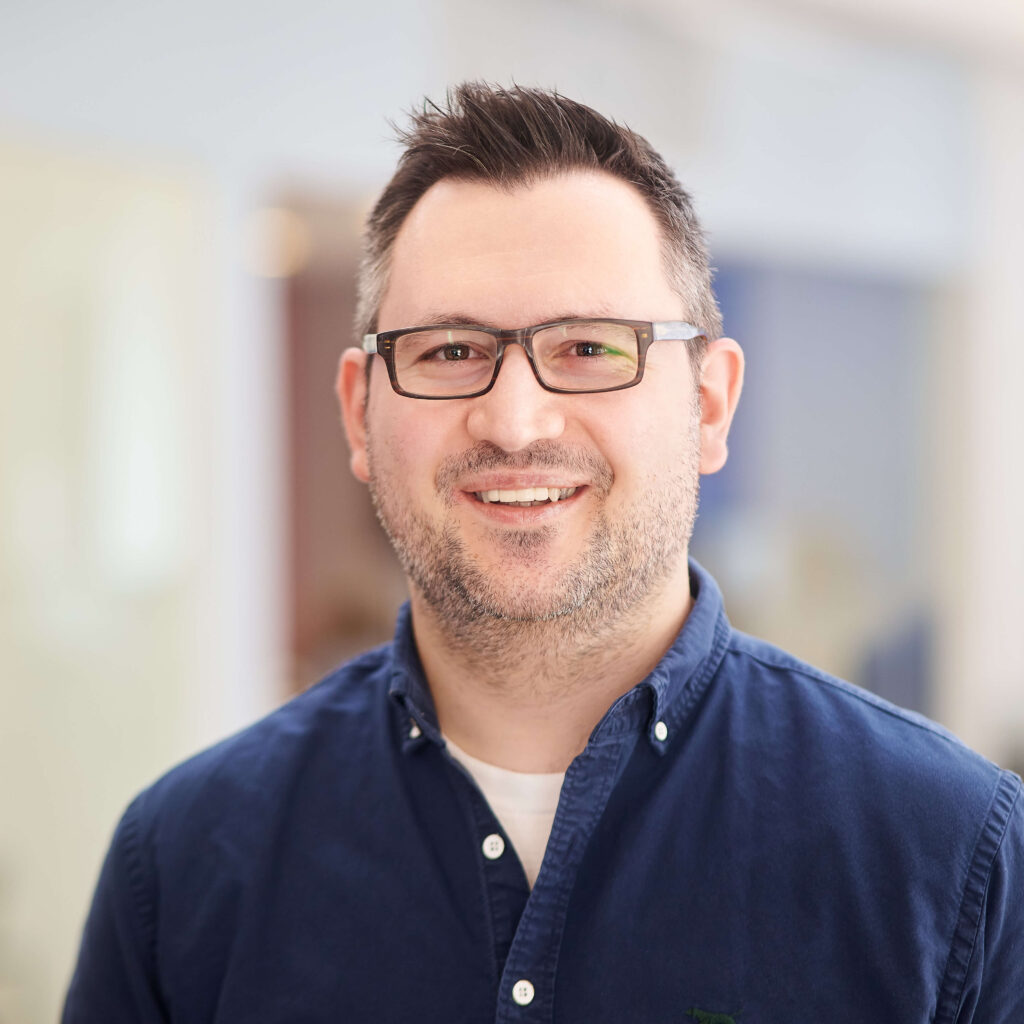 Ismar blends an insightful combination of science, instructional design, project leadership, and technology expertise. This allows him to meaningfully connect with clients across functional areas to support projects at every stage. He has experience directing and supporting a range of scientific and commercial projects, including product and indication launches, national sales and medical meetings, new-hire training, and performance sustainment initiatives. Prior to joining Flywheel Partners, Ismar was a scientist and instructor in the fields of developmental and cancer biology with a focus on genetics, molecular biology, and microscopy. He completed a postdoctoral research fellowship at Memorial Sloan Kettering Cancer Center and he earned a PhD at Northeastern University. 
Ismar Kovacevic
Partner
Jeff is an experienced and versatile training professional who is skilled in account management, project management, and course design/development with a strong client focus. He leads the Flywheel Boston office as a Senior Director. He has 25+ years' experience creating successful training solutions for healthcare, pharmaceutical, and medical diagnostics companies. Jeff is a solutions-oriented specialist who offers intelligent leadership, thoughtful creativity, and a profound respect for the human side of business relationships. 
Jeff McMahon
Senior Director
Lakshmi maintains a unique position at the crossroads of content and training direction, project and client relationship management. In her role, she combines big-picture thinking with an eye for detail to envision, craft, and deliver projects that achieve training objectives and provide meaningful learning—all while ensuring a seamless experience for clients. With expertise in a variety of disease states and therapeutic areas in the inflammation, immunology, and oncology space, Lakshmi has developed and managed projects across a range of brands that span some of Flywheel's long-standing clients. Lakshmi holds an MS in Organic Chemistry from Bangalore University and a PhD in Chemistry from Stony Brook University.
Lakshmi Rajaram
Senior Director
Jill is a specialist in translating client needs into targeted training solutions. As a Director, she inspires her team and others to do the same. With several decades in pharmaceuticals, on both the industry and agency side, Jill has a keen understanding of the connection between the clinical, business, and communication aspects of pharma; it is at the intersection of these that she thrives. Solving problems and "unraveling" challenging projects are her passion. Of all of her professional successes, being called "intuitive" by an important client ranks as one of the most meaningful to her.
Jill Jannsen
Director
Juah brings more than 10 years of experience in healthcare marketing and training communications to her role as Director at Flywheel. Leading a cross-functional team of medical writers and project managers, she leverages her expertise to support clients both large and small in the infant nutrition, rare disease, and cardiology spaces. She excels at establishing a highly collaborative working environment for clients and her team, striving to build relationships that best drive projects, meeting our high standards and exceeding client expectations. Prior to joining Flywheel, Juah earned her BS from Cornell University.
Juah Huth
Director
Allison brings 20 years of experience in healthcare training, advertising, and communications to her role as Associate Director at Flywheel. Through much of that time, she has served as the project manager and account manager for large and small pharmaceutical/biotech clients—responsible for every aspect of a project from kickoff to post-meeting sustainability. Allison has managed launch and POA workshops and print and eLearning programs for a variety of clients across multiple disease states. Her attention to detail and "eagle eye" make Allison an asset on every project she touches. 
Allison Ozkan
Associate Director
Alyssa leads a cross-functional team of medical writers and project leads, and manages keystone accounts for global pharmaceutical companies. With a decade of experience in science and healthcare communication, Alyssa has deep expertise working in the hematology oncology space. Prior to joining Flywheel, Alyssa earned her PhD in Chemistry from Stony Brook University, where she developed tracers for neural circuitry.
Alyssa Preston
Associate Director
Joanna partners with clients to provide training solutions tailored to their organization's needs. Internally, she leads a cross-functional team to bring these solutions to life by converting broad project concepts into engaging and relevant training assets. She has experience managing a wide range of projects for global pharmaceutical, biotech, and infant nutrition accounts.
Joanna Wu
Associate Director
Molly joined Flywheel in 2018 as a medical writer with a strong background in hematology/oncology and molecular genetics. As an Associate Director, she combines 15+ years of experience in the life sciences with a passion for learning and creative content development, leading a cross-functional team to deliver accurate and engaging medical education materials for her pharmaceutical clients. Molly holds a PhD in Genetics from Yale University and conducted postdoctoral training at The Rockefeller University, where she identified novel biological processes that contribute to cancer pathogenesis.
Molly Kottemann
Associate Medical Director
With more than 20 years of experience in graphic design, Kay has been an indispensable member of the Flywheel team since its founding. As Senior Design Director, she manages a team of in-house designers and freelancers, helping them bring projects from concept to delivery, forging clear lines of communication between clients and colleagues, troubleshooting problems, and maintaining the highest standards across all published materials. Her focus is to make the creative department as efficient as possible, all while keeping a finger on the pulse of product design to deliver Flywheel creatives that are innovative, visually engaging, and highly effective.
Kay Tsuji
Senior Design Director
Noom leads our design and multimedia teams. He helps build our strong sales training projects and communication campaigns for our US and global clients. He has over 25 years' experience in communications design and a few awards to prove it. Noom brings out our cross-functional team to turn the complex science into a manageable form.
Noom Kittayarak
Design Director
With more than 15 years of experience designing for the pharmaceutical industry, Erika brings a curious mind and efficient hand to visual communications. She has worked on a breadth of materials ranging from marketing collateral and creative concepts to eLearning modules and workshop materials, across disease states such as oncology, neurology, metabolic disorders, anti-infectives, and more. 
Erika Lubowicki
Associate Design Director
With over 25 years' experience managing the day-to-day operations of small- and medium-sized firms, his primary focus is on the company's financial management. In addition, he is in charge of our New York office operations and the ongoing administrative support of our client-facing teams.
Jeffrey Briggs
Associate Director, Operations
With a strong legal background and years of experience as an attorney, Tally is tasked with overseeing the people side of Operations. In addition to day-to-day management, she draws on her legal and editorial knowledge to develop and implement innovative policies that keep our people happy, drive efficiencies, and create frictionless operations for the company as it continues to grow.
Tally George
Associate Director, Operations
We Build Momentum. Together.
Our business grows by client referrals; we are only as good as our last project. We're proud of our long-term client partnerships and what we've been able to create together. Give us a chance and see for yourself how we can build momentum—turning one project into a lasting partnership.
Contact
Want to Build Momentum together?
NEW YORK CITY (HQ)
90 Broad Street
Suite 1703
New York, NY 10004

BOSTON
165 Washington Street
Suite 207
Winchester, MA 01890

Looking to Build Momentum in your career?
Recruitment Fraud Notice: It has come to our attention that various individuals and organizations are contacting people offering false employment opportunities with Flywheel. These individuals and organizations may request personal information, copies of your identification, or payments in order to progress the application. Flywheel does not ask for money transfers or payments from applicants to secure a job and does not make any job offer without a series of video interviews first. All legitimate open positions at Flywheel can be found on our careers job site and require submission of an application. If you receive a job offer or onboarding request without having submitted an application or participated in video interviews, you should assume that such job offer is not legitimate.
We'd love to hear from you!